Learn how to keep your pets and service animals exercised, entertained, and happy while stuck at home or practicing "social distancing."
In the face of the coronavirus outbreak, the CDC states on their website that a "community can take measures to reduce the spread of COVID-19…by practicing 'social distancing,' " which in some cases will require you to work from home, self-quarantines, or simply being proactive and staying indoors to minimize impact and contain the virus. As social gatherings and sports events are cancelled and some businesses are closed, you may find yourself staying indoors for most of the day and needing to be creative in how to entertain yourself and your pets or service animals. At FIDUS, we're a pet concierge service and we're committed to helping serve your pets and making life easier. Therefore, we have compiled a list of 7 Simple Ways to keep your dog, cats, service animals, and more busy and exercised while stuck at home.
1. Play a Game of Find The Treats
Nose work games are one of the easiest ways to tire out your dog. When you teach your dog some basic nose work games such as 'find the treats' you're mentally tiring them out and helping them hone in on some of their natural skills. (chopped up carrots are my favorite treat to use for this game)
Grab some treats and have your dog watch as you place them around the room. Give your dog the cue to "find the treats" and encourage your dog to pick them up, remembering to praise them every time they find one. After your confident that your dog understands what "find the treats" means you can making it a bit more challenging. Have them stay in another room as you hide the treats, and start hiding them in spots they have to sniff out such as under a rug.
2. Play the the Shell Game
The shell game is a simple problem solving game for pets. To play the shell game with your pet, let them watch as you place a treat under one of three cups. You then shuffle the cups around and encourage them to 'find the treat.' The shell game gives your pet plenty of mental stimulation, and helps them work on their problem solving skills.
Watch an example of this amazing cat winning at Play the Shell Game:
3. Use a Stuffed Kong to Keep Your Dog Entertained
Stuffed Kongs are my favorite when it comes to relieving dog boredom because they're so easy to prepare. If you want to keep your dog busy for awhile try stuffing a Kong with some of their favorite treats, or better yet Doggie Beer Bones CBD Peanut Butter which we sell in our FIDUS Boutique. You can freeze some peanut butter inside, or just put some treats in there and give your dog something to work for.
Using a stuffed Kong is a great way to keep your dog occupied while you're stuck at home or even while stuck on a conference call. Put your stuffed Kong in the freezer overnight and give it to your dog in the morning as you're leaving. A frozen Kong will last 30+ minutes for most dogs — much longer if your fill it completely.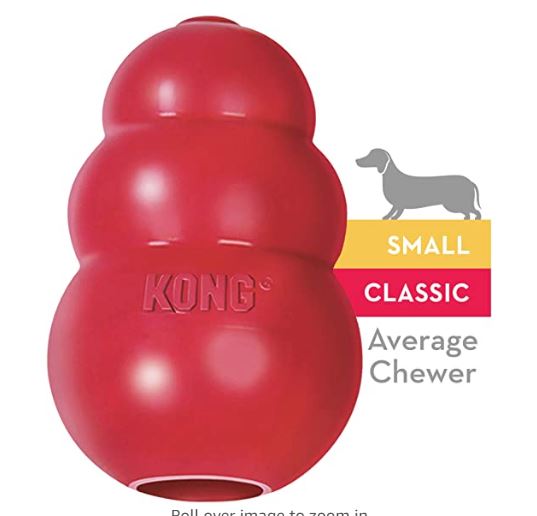 4. Get them some exercise with a flirt pole
You can find an inexpensive flirt pole on Amazon, but it's just as easy to make one out of things you have at home.
a. Grab a wood or metal skewer or a stick found outside
b. Tie a string to one end and your pets favorite toy to the other side
c. Clear a 10ft space around your house
d. And "go fish!" Let your pet chase the toy around in circles, up and down walls, or create an obstacle course for them to jump over or crawl through.
Try to do this a few times a day to ensure your pet keeps their heart rate up. Tip: Make sure you let them catch the toy every now and then to keep them interested, and go at different speeds to keep them on their toes!
Here's a video of how to use a flirt pole with a dog:
and with a cat:
5. Go for a quick walk, or hire someone to help you!
Being stuck at home doesn't mean your pets can't go for a brisk walk or jog to get a burst of energy out. Grab your harness and leash and try to take them out for a few sniffs and a chance to get some fresh air. Or, if you have a trusted pet care provider like FIDUS Pet Concierge, book at least a 30 minute walk with them to help you get your pet some exercise. Here are our favorite cat harnesses, and recycled plastic dog harnesses which we sell at our FIDUS Boutique.
6. Invite a healthy guest over, or hire a professional pet-sitter
Sometimes having a guest over to simply play with your cat, dog, or service animal is enough mental stimulation to keep them happy. If your guest is healthy and at low-risk for transmitting or catching the virus, you may consider inviting them over to play with your pet or service animal to break the monotony and offer a change of smells in the house. A pet sitting company like FIDUS Pet Concierge, will send over a healthy employee to your house to play or interact with your pets for 30 or 60 minutes!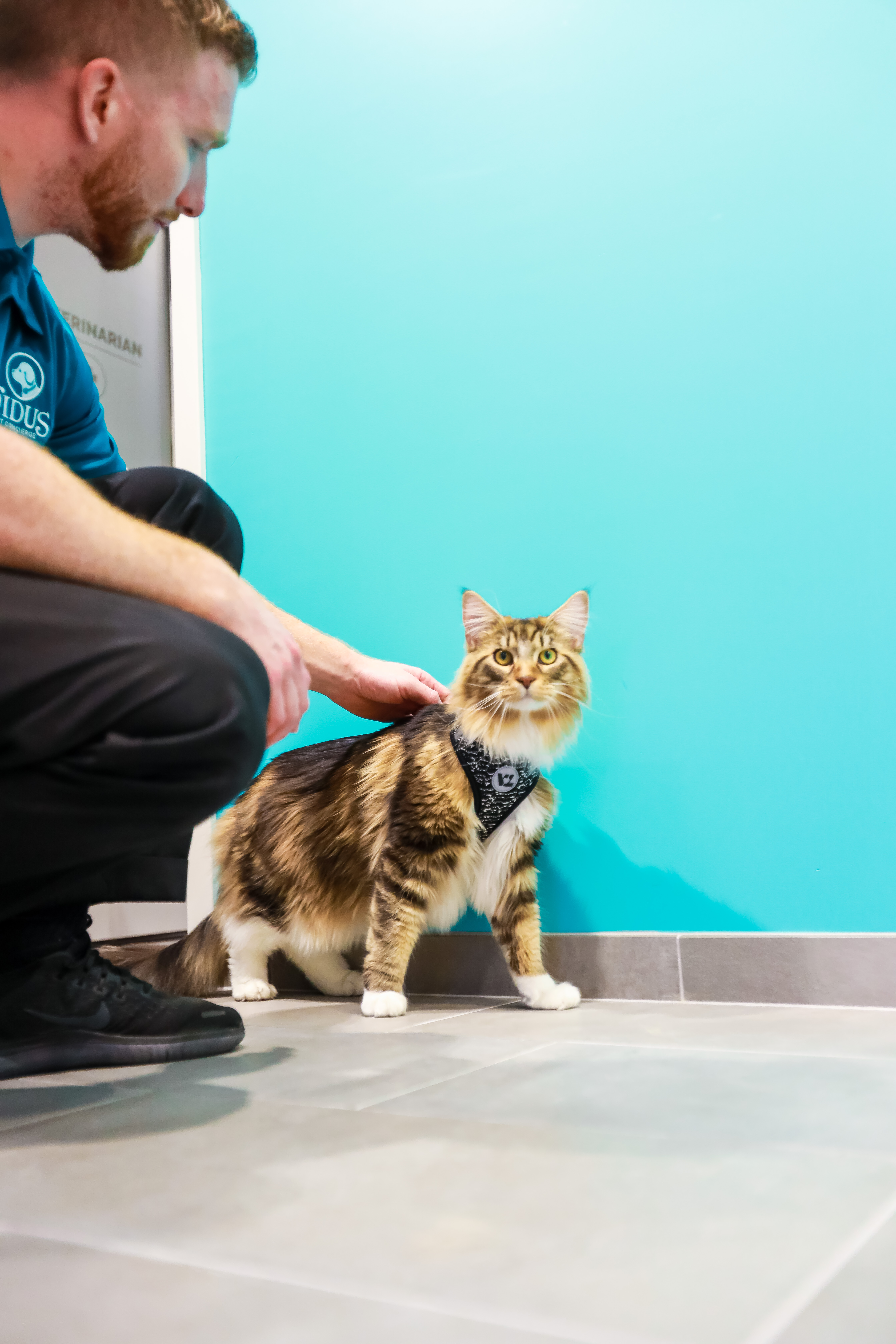 7. Take this opportunity to groom them
Most cats and dogs require regular grooming services to keep their skin healthy, their shedding to a minimum, and to keep them smelling fresh when they snuggle with us in bed. But when you're stuck at home, it's tough to get them into the car and out to a groomer. Take this opportunity to grab their brush, or even and old hair brush of yours, to do some at home grooming. Keep the brushing session to under 10 or 15 minutes, as depending on the age or breed of your pet-is usually the maximum amount of time they will sit still! If you have a FIDUS Boutique located in your apartment complex, you receive FREE pick up and drop off services for grooming, so make sure you take advantage of the transport services.
At FIDUS Pet Concierge, we want to ensure that everyone (including your furry family members and ESA) have a service they can rely on. We plan on staying open for business as usual 7am-9pm daily. The CDC has deemed our industry low-risk and therefore we plan to stay open to serve our community and keep our awesome staff employed. If something changes, we will make sure to notify our clients and the public via our social media pages. We appreciate you trusting us with your fur-babies and your continued patronage.
Click HERE to sign up and book services using our web app: ClubFIDUS.com
– FIDUS Pet Concierge Team
For more information:
Read more about the Coronavirus and your pet here: https://www.akc.org/expert-advice/news/can-dogs-get-coronavirus/
https://www.cnn.com/2020/03/02/asia/pets-coronavirus-spread-intl-hnk/index.html